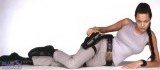 Picture Galleries

Check out great still image galleries from Lara Croft: Tomb Raider and Lara Croft: The Cradle of Life.

Lara Croft: Tomb Raider



The Cradle of Life





Lara Croft: Tomb Raider (2001)

Cast and Crew

Director: Simon West

Cast:
Angelina Jolie, Jon Voight, Daniel Craig, Iain Glen, Leslie Phillips, Noah Taylor
More

Chapter 1: Story

Oscar winner Angelina Jolie reinvents the modern action hero in "Lara Croft: Tomb Raider."

Lara Croft was born into wealth and groomed at the most elite schools. She travels to dangerous and mysterious locales around the globe in search of rare, lost crypts and long-forgotten empires. She speaks numerous languages, is highly trained for combat and answers to no one, obeying only a desire for adventure.
More

Chapter 2: Players Assembled

In rounding out the cast, the filmmakers then brought on a diverse ensemble of acclaimed talent.

One of the most hotly discussed casting choices was the question of who should play Lord Croft, Lara's father. As names were bandied back and forth, the name that emerged as front-runner was Jon Voight, Angelina Jolie's real life father.
More

Chapter 3: Jolie Is Lara Croft

As one of the most experienced stunt coordinators in the world, with "Saving Private Ryan," "Titanic," "The World Is Not Enough" and "Vertical Limit" among his recent credits, Simon Crane was obviously a natural choice as stunt coordinator as well as second unit director on "Lara Croft: Tomb Raider."
More

Chapter 4: Building Lara's World

While Angelina Jolie trained, other departments began cranking up for the start of production. Producers Lawrence Gordon and Lloyd Levin were joined by Colin Wilson, long an associate of Steven Spielberg, who began his career with Spielberg in the editing department of the "Indiana Jones" movies, and has since produced "The Lost World," "Amistad," "Small Soldiers" and "The Haunting."
More

Chapter 5: Iceland & Cambodia

While much of "Lara Croft: Tomb Raider" was created on the sound stages of Pinewood Studios, two spectacular locations were chosen for exterior scenes: one in Iceland (standing in for Siberia) and the other in Cambodia.
More

Chapter 6: The Game

Lara Croft has become a worldwide phenomenon since her debut in 1996. She is the first female to star in her own action game series, which comprises the original Tomb Raider, along with Tomb Raider II, Tomb Raider III: The Adventures of Lara Croft and the recent Tomb Raider: The Last Revelation.
More


Lara Croft Tomb Raider: The Cradle of Life (2003)

Cast & Crew

Director: Jan de Bont

Cast:
Angelina Jolie, Gerard Butler, Chris Barrie, Djimon Hounsou, Ciaran Hinds
More

Chapter 1: Detailed Storyline

This time around, archaeologist and explorer extraordinaire Lara Croft journeys to a temple, sunken underwater, that leads to a sphere that contains the mythical Pandora's Box, only to have it stolen from her by Chen Lo, the leader of a Chinese crime syndicate, who's in league with a bad guy named Reiss who wants to use the Box as a doomsday weapon.
More

Chapter 2: A Dream Come True

It was at the start of the new millennium when Angelina Jolie first threw herself wholeheartedly into preparing for her lead role as the adventurous tomb raider Lara Croft.
More

Chapter 3: Interesting Co-Stars

In fact, one of Angelina Jolie's hopes after signing on to do "The Cradle of Life" was to be working with strong, interesting co-stars, one of whom was her leading man, Gerard Butler ("Reign of Fire," "Timeline"). As former agent Terry Sheridan, who is sprung from a prison in Kazakhstan to lead Lara to Dr. Jonathan Reiss (Ciaran Hinds), a brilliant scientist bent on world domination, Butler brings an interesting edginess to the character.
More

Chapter 4: Lara's Most Dangerous Venture of All

Having years of experience working as a cinematographer on such films as "Lethal Weapon 3," "Basic Instinct" and "Die Hard," director Jan Dc Bont came to "The Cradle of Life" with acutely developed camera-handling skills as well as directorial talents.
More

Chapter 5: State-of-Art Technology

As for the state-of-the-art technology in the film, one of the most fascinating gadgets that Lara Croft uses throughout her daring adventure is the Panasonic AV2O/30 eWear / d-Snap. A multipurpose, all-in-one portable device, not much larger than a makeup compact, it's all the intrepid tomb raider needs to record her discoveries both in digital still images and as video footage.
More

Chapter 6: From Greece to China

In the course of a six-month global shoot, the "Lara Croft Tomb Raider: The Cradle of Life" cast and crew packed their bags several times to travel far from the company's home base, Pinewood Studios in leafy Buckinghamshire, just outside London. Production started in Greece, then ventured to Wales, moved on to Africa to discover Kenya and Tanzania, and continued on to Hong Kong and mainland China.
More